Employment Opportunity - Director, Centre for Aboriginal Economic Policy Research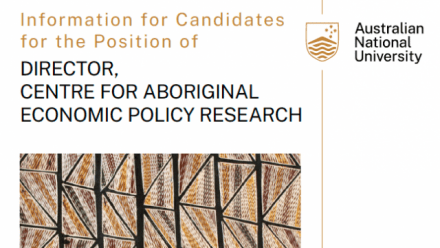 The role of Director at the Centre for Aboriginal Economic Policy Research (CAEPR) has now been advertised:
Position overview
The Australian National University (ANU) has an international reputation as a leading university in research, education, and policy expertise, with particular strengths in humanities and social sciences. Distinguished by its relentless pursuit of excellence, the ANU attracts leading academics and outstanding students from Australia and around the world.
Since 1990, ANU has supported Australia's leading social science research on Indigenous policy issues through the Centre for Aboriginal Economic Policy Research (CAEPR). The University now seeks to renew its commitment to Indigenous policy research through the appointment of a new Director. This is an exciting opportunity to lead and refresh the Centre's vision and drive. The Director will be an accomplished and senior Indigenous leader with relevant academic and policy expertise. Reporting to the Director of the Research School of Social Sciences within the College of Arts and Social Sciences, the Director will be responsible for the strategic direction and research and educational leadership of CAEPR, consistent with the strategic plans of the College of Arts and Social Sciences and the ANU First Nations Portfolio. This will include national and international policy outreach and partnership with multiple stakeholders, and the ongoing development of relationships between CAEPR and government agencies and research networks both in Australia and overseas.
The successful candidate will have highly-developed communication skills and the capacity to influence effectively as well as the ability to engage across the College of Arts and Social Sciences and with the ANU First Nations Portfolio to encourage collaborative research and teaching. Excellent people management capability should be combined with effective strategic vision and planning. The ability to build relationships while engendering a positive culture of collaboration will be essential.
Enquiries: Professor Catherine Waldby T:02 6125 2449 E: director.rsss@anu.edu.au
This is an Identified Position in accordance with the ANU's Identified Position Policy. Aboriginal and/or Torres Strait Islander persons are strongly encouraged to apply. For more information on employment opportunities, contact our Indigenous Employment Consultant on indigenous.employment@anu.edu.au
Please refer to Position Description documentation attached or link below for further information.
https://jobs.anu.edu.au/cw/en/job/544995/director-centre-for-aboriginal-economic-policy-research
File attachments