Publication: Culture Crisis - Anthropology and Politics in Aboriginal Australia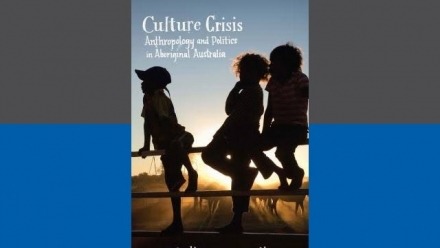 Contributors bring diverse perspectives to bear on the interpretations of current circumstances and policy prescriptions for the future. An urgently needed dialogue on issues about which anthropologists are in passionate disagreement, Culture Crisis unflinchingly confronts the political and conceptual approaches that have failed remote Aboriginal communities.
For ordering details (with 20% discount offer), please see the attached PDF flyer. 
Contents
Preface
Contributors
A Short Note on Terms used
Anthropology and the culture wars - Melinda Hinkson
PART I. THE PROBLEM OF RECOGNITION
1. The Crisis of Culture and the Arts of Care: Indigenous Politics in Late Liberalism - Elizabeth Povinelli
2. National Anthropologies and their Problems - Jeremy Beckett
3. Helping Anthropologists, Still - Gillian Cowlishaw
4. The Politics of Suffering and the Politics of Anthropology - Andrew Lattas and Barry Morris
PART II. THE PROBLEM OF VIOLENCE
5. The Shock of the New: A Postcolonial Dilemma for Australianist Anthropology - Marcia Langton
6. Child Sexual Abuse: The Intervention Trigger - Francesca Merlan
7. Quarantining Violence: How Anthropology Does It - Diane Austin-Broos
PART III. COUNTING CULTURE
8. Refiguring 'Indigenous culture' - Tim Rowse
9. Is Culture the Problem or the Solution? Outstation Health and the Politics of Remoteness - Emma Kowal
10. Indigenous Education and Training: what are we here for? - Tess Lea
11. 'Only whitefella take that road': Culture seen through the Intervention at Yuendumu - Yasmine Musharbash
PART IV. IMAGINING FUTURES
12. Media images and the politics of hope - Melinda Hinkson
13. Other people's lives: secular assimilation, culture and ungovernability - Nicolas Peterson
14. What futures for remote Aboriginal Australia? Economy hybridity and the neoliberal turn - Jon Altman
File attachments